Birds can be a problem around your property or home if you aren't paying attention. Preventing birds from building nests around your home requires you to take action sooner rather than later with the installation of humane and effective bird deterrents.
To prevent birds from nesting on your property, the first step is to thoroughly clean any areas where bird droppings and nesting debris are present. Birds' scent and pheromones, which can be found in the droppings and nests of nesting birds, attract them to the area. 
Before installing any bird control products, disinfect and clean the area with a hospital-grade disinfectant and cleaning agent. If there are birds and eggs present, be careful when removing the nest. Read about the important Do's and Don'ts when it comes to bird and bird nest removal.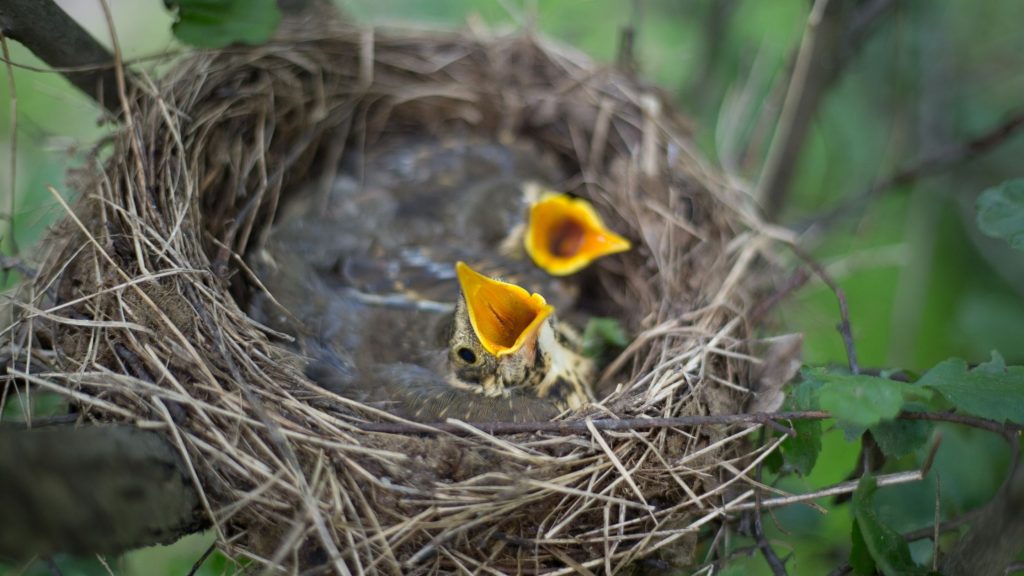 The following are the most effective methods for keeping birds away from your house:
KEEP BIRDS OUT WITH BIRD NETTING
Prevent birds from building nests on your house with a high-quality bird net. Attics, soffits, chimneys, patios, and eaves can all be protected from pesky birds with the proper placement of bird netting. An effective method of keeping birds away from your property is to use bird nets.
If aesthetics are important to you, there are bird nets available that are virtually invisible from a distance. To ensure long-term use, a professional bird net must be rot, flame, and UV resistant.
Many wildlife control and bird removal companies recommend heavy-grade bird netting for homes and businesses with bird problems.
KEEP BIRDS FROM NESTING UNDER SOLAR PANELS
Pigeons and other pest birds love to nest and roost under rooftop solar panels. Shade from the sun, protection from predators, and an easy access point for birds are all provided by the panels. Birds, on the other hand, are notoriously tenacious, especially if they've previously nested under solar panels. Because most solar panels are only 8 inches above the roof deck, removing nests and droppings can be a challenge.
Birds will nest or roost under solar panels, so installing a Bird Deterrent designed for solar panels is the best way to keep them out. A licensed and insured professional installer is recommended for installation.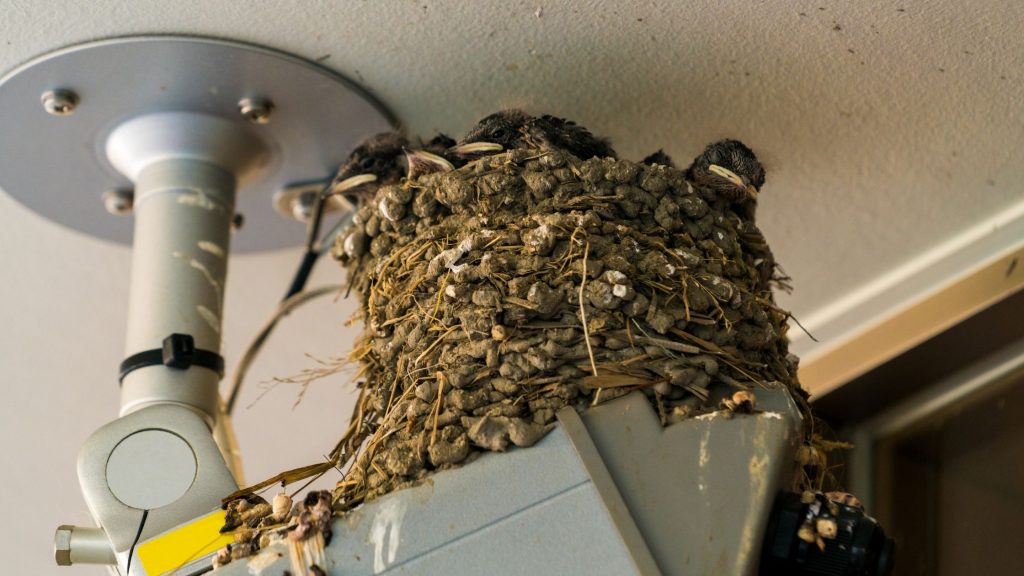 HOW TO KEEP OUT SWALLOWS AND SPARROWS
When it comes to protecting migratory birds from nesting, swallows are one of the most difficult species to eradicate. Bird netting is usually recommended by the majority of experts, but many bird removal specialists have simple solutions for nesting swallows.
The Swallow Shield Kit by Bird-B-Gone is a device designed to keep swallows from building their mud nests in places they don't want to be. The combination of the swallow shield deterrents and an active bird repellent will help you keep swallows and other migratory birds away from your house.
KEEP BIRDS OUT OF SMALL CREVICES AND HOLES
Using copper mesh you can easily "shape" will help keep pest birds out of small crevices, holes, and nooks in your house. Find one that is rustproof and stainproof – steel wool will rust and stain.
PREVENT BIRDS FROM NESTING IN DRYER VENTS
Prevent birds from building nests in your dryer vents by installing dryer vent guards. Vent guards are available in a variety of sizes and can be quickly installed to prevent birds from nesting in the opening. A pest control expert's help may be required to remove the nests from the vent.
Other Ways to Prevent Nesting Birds
Preventing problems before they arise is the primary goal of the strategies listed below. Refer to the solutions above if you've had problems with birds in the past.
Preventing birds from nesting is best done with the items listed below. Prior to implementing the following bird control methods, it is critical to thoroughly clean the area of bird droppings and nesting debris. A bird's pheromones, which can be found in its droppings and nesting material, attract other birds to its nest.
Bird Repellents
Install Stainless Steel Bird Spikes
Use Visual Deterrents
Sonic Sound Devices
CALL A PROFESSIONAL BIRD REMOVAL COMPANY
If you are unable to reach a nest or have apprehensions about removing a nest, its best to call in a professional to handle the task. Our team of wildlife specialists is trained to handle any bird removal job you need. Need help? Give us a call or contact us today!